Eligio Roque Escobar

Composer - Musician

  Eligio Roque Escobar, composer and musician, was born to Eleuterio and Andrea Escobar, Sr. in Ben Bolt, Jim Wells County, Texas on December 1, 1926.

Escobar's family came to the Ben Bolt area from the small community of Escobares in Starr County. Escobares and Eligio's ancestors go back to the colonization period of Nuevo Santander, New Spain in the mid to late 1700s.

On September 24, 1944 Eligio married Jesusa Koehler. In February of 1945 he joined the United States Armed Forces and served until October 1946 which included the occupation of Japan after World War II where he achieved the rank of Sargent.

After the service Escobar came back to the Ben Bolt area to raise his family of two sons and two daughters working as a truck driver in the oil fields around Alice.

Destiny had another future for him though. In 1960 he was in a serious automobile accident. Eligio was bedridden for a year after the accident. Being alone he took up the guitar and started practicing his singing and composing songs.

Escobar soon joined the group Los Guadalupanos. Other groups or persons that he played and recorded with were: Conj unto Bernal, Los Fabulosos Cuatro, Chano Cadena, Ruben Naranjo, Rodolfo y Lab, Los Pavo Reales, Isidro "Lefty" Lopez, Don Pedro Ayala y Los Hermanos Ayala of Donna, Tx., Bernardo y sos Compadres, Pepe Maldonado, and Gerardo Reyes to name a few.

In 1964 Eligio helped guide his eight year old daughter Linda become a child recording artist and performer. She became a recognized name nationwide with her hit song, "Frijolitos Pintos". They went on a national tour with top international Mexican recording stars such as Lucha Villa, José Alfredo Jimenez, and Cantinfias. In California their promoter was Arnulfo "El Gordo" Debgado and in Chicago it was Joe Zuniga and the Zuniga Brothers.

Escobar recorded under various labels including: Ideal, Nopal, Bego, Cometa, Bernal, Laredo, Reloj, and DINA of Joey International.

Some of Eligio's biggest hits were "Cuando Dos Almas" with Nopal Records, "Rosario Nocturno" under Ideal Records, and "El Gambler" under the Laredo label of Tony de la Rosa.

"El Gambler" was a big hit amongst the horsemen of South Texas because it told the story of a quarter horse owned by Jimmy Reyna of San Diego with bloodlines coming from George B. Parr's horses.

I can recall as a young teenage boy in the late 1960s going to the racetrack of Santiago Barrera, Sr. close to Rios, TX. in Duval County and seeing Eligio singing songs by himself without microphones to the crowd under a shed. I recall being awestruck because he was known by then as a recording star and here he was in the middle of the brush singing songs instead of in some fancy dance hail. But in reality here was where he was most comfortable.

Elijio's most famous song undoubtedly was "El Veterano", a song he wrote for the Mexican-American veterans of World War II.

Andrea F. Escobar, Elijio's mother had the distinction of having her six sons, Ricardo, Ramiro, Eligio, Rogerio, Rafael, and Eleuterio being veterans of the armed services of the United States.

Escobar and his brothers were members of the American GI Forum in Corpus Christi and participated in many of their functions to benefit veterans.

Being raised in the South Texas brush country Elijio loved to hunt. Later in his life he was a wildlife manager on ranches in Mexico as well as South Texas.

I recall last year talking to his brother Rogerio and he told me that he and Elijio had spent several months on a big ranch in Mexico without seeing anyone else but themselves in preparing for the bunting season. They took their wildlife management seriously and it paid off with some trophy bucks for the hunters.

In the 1990s Elijio became ill with cancer and died on October 4, 1994. He was buried in Corpus Christi. Escobar left behind a legacy of over 250 songs that he recorded during his career. Hopefully in the year 2045, when World War II will have its 100th anniversary of it ending, they will still be playing "El Veterano" on the Tejano airwaves.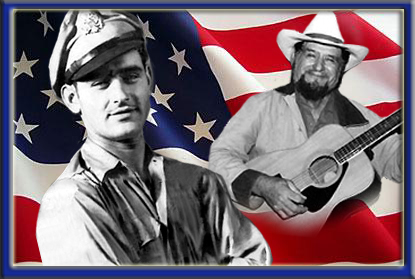 Dream #1: "I'm doing real good!"

Since my father passed away, October 4, 1994, I have had two dreams where he has come to speak to me. The first time was about a month after his death. He was sitting on a bench in the clouds and he had the biggest. most beautiful smile on his face! He told me that "they" were finished with him already; that they had fixed his legs (from his auto accident of 1963 where he sustained broken leg bones in nine different places). He said that he was going to be working in law enforcement. I laughed, thinking he was joking, and he said, "Aqui tambien tenemos leyes, mi hija." (We have laws here, too.)

I asked him if he had seen his friends like Lolo Cavazos, Lee Farias, "Chato" and Jerry. He said, "Si hombre, aqui anda todo el atajo." ("Yes, the whole gang is here.")

He then told me to tell everyone that he was doing real good and that he was very happy! He said that he had to leave because he didn't have much time. He smiled at me and disappeared.

That morning when I woke up, I was so excited that I immediately went to wake my mother up to tell her! I even called my sister and my brothers to tell them about it. I told all my relatives at the Cielito Linda Ranch that December at the 1994 Escobar Birthday Pachanga what he said: he was "doing real good and was very happy"!

Dream #2: "Do Something".

In January, 1999, my father came to me in another dream. This time he was in my house and had a very serious, almost mad look on his face. He said, "Chihuahuas, Linda! Te deje todos mis exitos, todos mis consejos, y todos mis recuerdos y no has podido hacer ni una fregada con ellos!" ("Golly, Linda! I left you all of my hits, all of my teachings, and all of my memories, and you havent done a darn thing with them!")

He was very disappointed in me! I felt so bad; I told him that I was sorry. I wanted to explain that it had been real hard to continue my music without him, but he didn't even give me a chance. He just looked at me with those eyes of his, (the look I always got when I was in trouble) and said, "I got to go," and he disappeared.

Conclusion:

It is because of these dreams that I was inspired to have this festival in honor of my father, Eligio Escobar. I pay tribute to him for all his accomplishments and for all that he instilled in me through his teachings, not only in the music field, but as a humanitarian. He always told me, "La amistad vale mas que el dinero", meaning "friendship is worth more than money". My father had many, many friends!!!

My future plans are to pursue my music career and to carry on the legacy!!! I am going to go back into the studio to record this summer. I am also going to purchase his music masters from different record companies, re-mix, and bring them back into the market under "Escobar Records" label.

I guess my father knew I was ready to return to music before I did. I needed him to get me started again just like before. I am not going to disappoint my father anymore!!!

Sinceramente,

Linda Escobar

"The Dreams that inspired this Special Event (The Annual 'Veterano' Festival)  and my Future"

by Linda Escobar